The continued legalization of Cannabis across the world gives Canna-Curate and all Cannabis enthusiasts an opportunity to share ideas and come together as a community. According the the Washington Post, legalizing marijuana nationwide would create at least $132 billion in tax revenue and more than a million new jobs across the United States. Canna is committed to making this a reality for all Steemians and Cannabis enthusiasts by educating our community and eliminating the stigma attached to Cannabis cultivation and its use. As we grow, we also give an opportunity to entrepreneurs and others interested in networking and connecting, not only online but in real life.
Welcome to Portland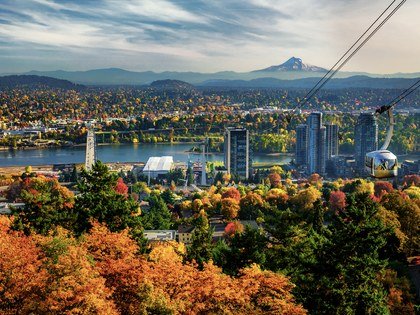 Our first annual Canna Steem-Fest is one of many events we have planned for the Canna-Curate Community. Once a year, we would like our community to come together and share in the joy that is Cannabis. For our first one we have chosen Portland as our host city.
Oregon has been at the forefront of legalization, being the first state to decriminalize Cannabis which, according to Patrick Anderson, reduced the fine of possessing an ounce to $100 in 1973. In 1998, Oregon was the second state to allow Cannabis use for medicinal purposes and fully legalized by 2016.
Cannabis use is ordinary and there is little to no stigma attached to it in Oregon, especially in Portland. Think of it as a beautiful dream where average people grow and consume organic cannabis grown in their own backyard. This is why we feel Portland is the perfect location for our very first Canna-Curate Steem-Fest.
---
When and Where
Northwest Cannabis Club
1195 SE Powell Blvd
Portland, Oregon
June 1st, 2019
3pm PST – Close
Event Details
Downstairs Casual Lounge Access
E-Nails
Pipes
Vaporizers
Pool Table, Foosball
---
Upstairs Lounge and Deck Access
50 ft Dab Bar
Huge Outdoor Deck, Pergolas and Dab Bars
Retro Amusements & Good Times
---
Live Music
---
Speakers
Jon, Founder Canna-Curate
Daniel Pittman, Founder HashKings
More to be announced in the coming weeks
---
Event includes Complimentary Cannabis Products
Concentrates
Flower
Edibles
---
Awards Show and Competition
Solo Cup Challenge Winners Announced
Dab Competitions
Guess the Strain
---
Snack Buffet
---
Canna-Curate Gift Bag
---
20 dollars gets you in the door and a lifetime membership to NW Cannabis Club. We love Steem however both Steem and SBD payments are not available at the Cannabis Club. Please bring card or cash.
---
I

Please join the Canna-Curate Server with HashKings and be part of this exciting new adventure! 2019 has arrived along with
Canna-Curate | The #1 Cannabis Curation Trail on Steemit
@jonyoudyer (@canna-curate)
@bluntsmasha aka CryptnoToad
@fracasgrimm (@greenhouseradio)
@qwoyn (@hashkings)